Mallorca is a quick, two-hour flight from London and most major cities in Europe, making it a popular weekend destination. If you are flying from the US, I recommend flying into Barcelona and spending a few days there exploring the city before popping over to Mallorca. Plan your Mallorca itinerary to spend at least 3 days on the island.
WHAT TO SEE AND THINGS TO DO IN MALLORCA
In the summertime, I suggest spending at least some of your trip lounging in the sun at one of Mallorca's many gorgeous beaches. The East side of the island is said to have the most beautiful beaches and fun little beach clubs. Since my friend and I visited in the winter month of November, (though still 70F+ most days!), we spent our time exploring the island.
DAY 1: OLD TOWN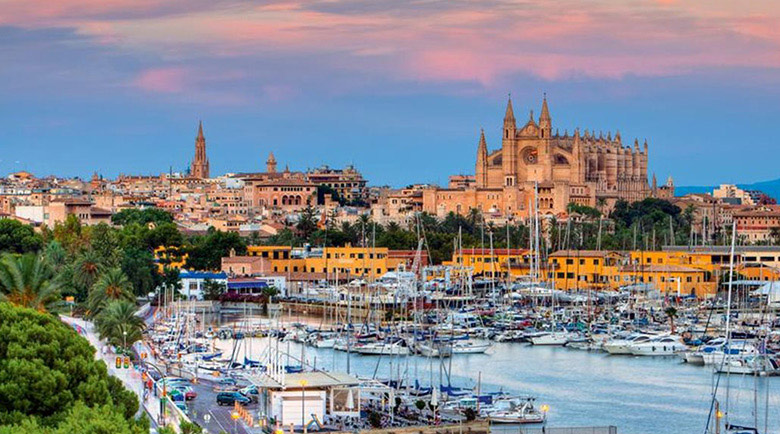 On our first day in Mallorca we spent hours walking around old town Palma. I loved the Catedral de Mallorca. We did a self-guided tour, which was just €7, and then explored the rest of old town on foot.
There are gorgeous little winding roads everywhere and several cool shopping streets in old town. I could have spent at least another full day just wandering around the city, soaking in the culture and beautiful architecture. We didn't end up making it to Beller Castle, but I heard that it has an amazing view of the city that is worth exploring.
DAY 2: CAP DE FORMENTOR 
On our first adventure out of the city, we rented a car and headed north to Formentor. Getting out of the Palma was a little scary because the streets in old town are small and windy, but once you are on the main roads, it is a breeze driving around Mallorca.
It is very easy to find the main towns that you'll want to visit with just a simple map that your hotel will provide. Cap De Formentor, on the northern tip of the island, is breathtaking, and there is a lookout, jetting over a cliff, where you can take a million photos and soak in the coastline.
It only takes about 35 minutes to get to Cap De Formentor from Palma so I recommend continuing on and driving to the lighthouse. The Formentor Lighthouse itself is nothing to write home about, but the drive along the ocean is gorgeous and reminds me of driving Highway 1 up to Big Sur, California. Just be sure to drive slow and look out for bikers, as the roads are windy and small! After the lighthouse, head to Formentor Beach, a beautiful, pristine beach lined with pine trees, where you can swim and lay out in warmer months.
DAY 3: VALLDEMOSSA, DEIA & SOLLER 
On our last day in Mallorca, we decided to explore the West side of the island. We drove to the mountain town of Valldemossa, which is only about 20 minutes from Palma. Valldemossa is so charming with its tiny cobblestone streets and pretty, old buildings built into the mountainside. This was by far my favorite town on Mallorca!
Our next stop, just 10 minutes down the road was Deia, a gorgeous, mountain town that also has ocean views! In the summertime, be sure to stop by the Belmond La Residencia for cocktails at their poolside restaurant & bar.
The town of Soller is just 15 minutes passed Deia and also worth a visit. If you go, make sure you see Port de Soller. We didn't know about the port so we missed the best part of the city!
WHERE TO EAT & DRINK IN PALMA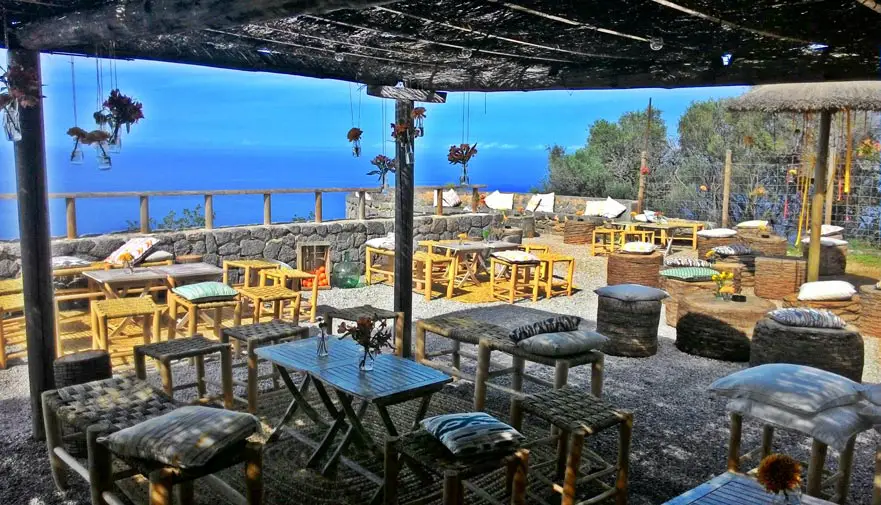 Can Cera Gastro Bar, is a great Mediterranean restaurant in the Can Cera Boutique Hotel. The atmosphere is upscale and the food was excellent (the burrata salad with basil pesto dressing was amazing)!
If you are looking for upscale Spanish cuisine, try La Bodeguilla. They have delicious Spanish tapas; everything on the menu was great, but I loved the cheese plate (it's only listed on the desert list for some reason so you have to ask for it), and the seafood paella was fabulous. They also have an excellent selection of wines.
Café La Lonja is a great place to grab Spanish tapas and drinks for lunch. This place has a cool vibe, good food and cocktails, and a nice outdoor seating area right across from the harbor.
And for the best burger in Europe, you have to try California Burger Bar! My friend, Mark, opened California Burger Bar in May of 2014, and since, people have been flocking to Palma just to try these famous burgers. The fries are also delicious, the cocktails are served stiff, in large glasses, the bar has hip decor, and they play old school gangster rap!
There are lots of cool bars in old town Mallorca but another one my favorites is Bar Abaco, an old world Mallorcan manor house. Grab your cocktails at the bar and then head upstairs to explore the sitting rooms, kitchen, and terrace where you can enjoy your drinks in a unique, intimate setting. Saludos!
WHERE TO STAY IN MALLORCA
Nestled in the heart of old town Palma, Boutique Hotel Calatrava is in the perfect location to explore the city by foot, and it's also across from a beautiful bay that has a jogging path running along the water! Hotel Calatrava is 5-star hotel with world-class charm. This is where I stayed during my trip. I love everything about this hotel, but my favorite amenity is rooftop terrace overlooking the city and sea, where you can enjoy breakfast each morning, and champagne sunsets in the evening.